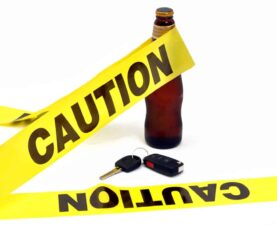 Everyone is used to the routine of driving from point A to point B, so it's pretty easy to slip into the mindset of 'What could happen?' when you're out on the roads. But if you want a great example of how weird it can get out there, just ask the man who was drinking and driving in Florida and then run over by his own truck. Unfortunately for him, it was his own fault.
Joseph Carol, a 48-year-old man, drove his truck into a car stopped at a red light in Gainesville. He got out of his vehicle and began banging on the window and yelling at the occupant of the vehicle in front of him, and when the person drove off, he turned around to realize he hadn't put his truck in park and it was moving toward him. Although he attempted to stop the truck with his hands, it ran him over.
When the police arrived at the scene and searched his vehicle, Carl was found to be in possession of open alcohol and had empty beer cans littering the floor. He failed both a field sobriety test and refused to provide a breath sample. Subsequent tests taken later found his blood alcohol level (BAC) to be at .22.
It's not very often you can learn so many lessons from one incident, but what happened to Joseph Carl is the perfect reminder that:
Florida has open container laws, and if you violate them you will be guilty of a noncriminal moving traffic violation.
Refusing to provide a breath sample in Florida is a violation of the 'implied consent' law, and will result in the immediate suspension of your license for 1 year
Road rage is a real problem in Florida, with the most recent statistics showing 13,000 drivers were cited for aggressive driving in 2003
Drinking and driving in Florida can net you jail time, fines, license suspension, and a possible ignition interlock installation
Carl was charged with driving under the influence (DUI) and DUI with property damage, and he also found himself in possession of a fractured foot and hand. The moral of the story? Drinking and driving can get you way more than just a ticket, so stay sober when behind the wheel.